GreenLine GL Recon Process (Summary)
The GL Recon Process (summary) and GreenLine Roles
The GreenLine month-end close process begins with the import of general ledger balances from an accounting or ERP system source. Preparers select accounts to work on based on their area of responsibility.
Because GreenLine gives the financial management team such a clear overview of work progress (one progress monitor is Recon Status doughnut below).
Preparers are not directly allocated accounts (a time-consuming and onerous maintenance process). Rather they are trusted to select accounts pertinent to their areas of duty, with management having oversight and the ability to request action of unclaimed accounts.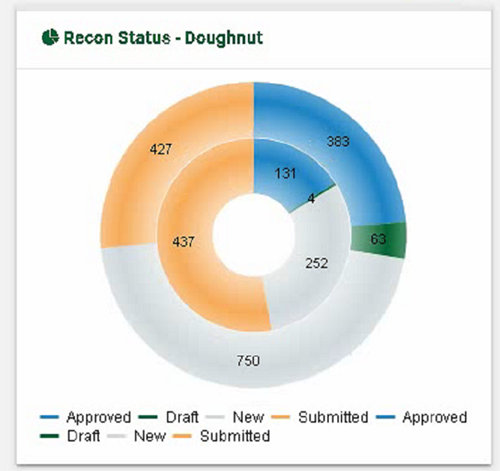 Preparer
Analyse each account making use of an understanding of the specific accounting policies applicable to individual accounts
Attach all supporting documents to the account. Each account type will require its relevant type of documentation.
Submit completed accounts for checking
Checker
Balance GL entries against the supporting documentation and follow-up discrepancies, making any required journal entries.
Submit completed accounts for review
Reviewer
Review the accounts and their transactions submitted for your attention
Checking transactions to ensure that they have been recorded according to GAAP/IFRIS accounting principles
Ensure transactions do not conflict with company policy.
Be on the lookout for unusual transactions. 
Return any suspicious or non-conforming accounts back to the Preparer and Checker for adjustment and subsequent resubmission